Snow Removal
The Town of Yorktown provides snow removal for public right of ways throughout the community. Included in these areas are all public streets, municipal parking lots, some alleys, and various trails and sidewalks throughout the community. The town utilizes 4 large dump trucks, 3 small dump trucks, backhoe, bobcat, and utility tractor.
Members of the Field Operations Department and Waste Water Treatment Plant will begin removing snow from the streets after measurable amounts of snow have accumulated. The initial focus of the crews will be to open major arterial roadways. These include: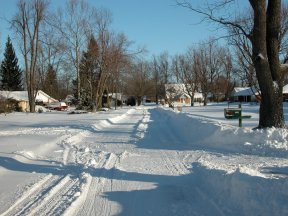 Cornbread Rd

Andrews Rd

Broadway St

Marsh Rd

Adeline St

Tiger Dr

River Rd

Nebo Rd

500 W

600 W

Jackson St

Isanogel Rd

Lone Beech
After completing these areas, removal crews will then begin working in the various subdivsions throughout the community. It is helpful if residents remove vehicles from the streets prior to a large snow event. This ensures that crews will be able to navigate subdivison streets and fully remove the snow.
Contact Information
If you have any questions regarding this service, please contact Pete Olson.