Parks
Yorktown is proud to boast a tremendous park system, which currently includes four parks: Morrow's Meadow, Yorktown Sports Complex, Lion's Club Park, and Memorial Park. The Yorktown Field Operations Department is responsible for the maintenance and upkeep of the various parks located in Yorktown.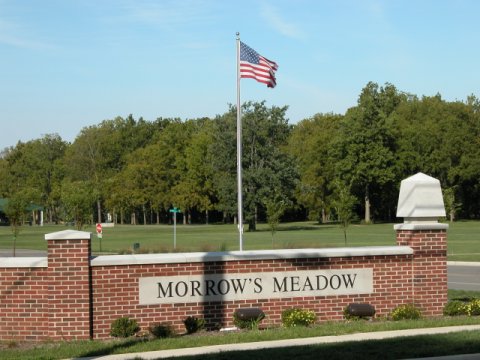 Morrow's Meadow
Morrow's Meadow is the location of Yorktown's annual Independence Day event and many other events throughout the year, including the Yorktown Farmers Market, the annual Yorktown Fire Department Fire Prevention Car Show, Yorktown Public Library's Summer Reading Program, Reach Yorktown's Kids in the Meadow, and more.
Yorktown residents are encouraged to utilize the pavilion facilities located in Morrow's Meadow and Lion's Club Park and can make reservations calling 765-759-4003 or emailing ehurley@yorktownindiana.org.
A public access canoe launch is available at Morrow's Meadow during daylight hours. Please obey drop-off and parking restrictions and be a good steward of the park and our natural resources. More boating information may be found at Indiana DNR.
Civic Green
In the heart of downtown, Civic Green is a versatile space that can be enjoyed by residents of all ages. Civic Green features grassy areas, shade pavilions, fire pits, and a sensory plaza with misters and lights (which doubles as a splash pad for kids). It also features a performance structure, making it a great place for community events.
Yorktown Sports Complex
The Yorktown Sports Complex is home to 20 soccer fields and 5 baseball/softball fields as well as indoor volleyball courts for Munciana Volleyball and a 10,000 sq-ft YMCA training facility. Each of the following organizations is proud to call the Yorktown Sports Complex home:
The Yorktown Sports Complex is the result of a cooperative effort between the Town of Yorktown, Delaware County Commissioners, Yorktown School Corporation, Delaware County YMCA, and each of the organizations listed above. Click here to learn more about the Sports Complex.
Lion's Club Park
Lion's Club Park is located southeast of Downtown Yorktown along the south side of Buck Creek. It is home to the Carl Scott Memorial Disc Golf Course, a 24-hole course rated as one of the top courses in Indiana. Other amenities include a playground, small pavilion, and community garden as well as picnic tables and benches. Lion's Club Park is also home to one of the top sledding hills in Yorktown.
Memorial Park
Memorial Park is located in Downtown Yorktown and is home to the Yorktown splash pad. The splash pad is open from spring until fall and is open to the public.